| | | |
| --- | --- | --- |
| | NZGamer Interviews Hamish McLeod | |
Monday, 16th 2005f May 2005, at 8:15 pm GMT


NZGamer's Tristan Clark has an interview with Moonpod's very own Hamish McLeod.

In it Hamish talks about his latest (as yet to be named) project, and muses on the state of the games industry. There's also a couple of nice shots of the game in its present state.

The article also interviews Anthony Flack of Squashy Software, maker of fantastic claymation game 'Platypus' and the upcoming 'Cletus Clay'.

| | | |
| --- | --- | --- |
| | PC GAMER Reviews Starscape | |
Saturday, 14th 2005f May 2005, at 12:13 pm GMT


May's UK edition of PC GAMER features a Starscape review

(page 104)



The reviewer seems to really love it! Here's a few select quotes:



"The light that burns bright may burn half as long, but you, my little beauty, have burned so very, very bright."





"The graphics are stylish, attractive, and perfect for the job."





"It's worth buying because it's a cracking little tactical shoot-'em-up;it's jolly good fun; amd it's a fine example of indie developers comprehensively mooning the big-brand culture that has a stranglehold on our industry."



-We liked the last bit especially! Final score: 80%

It's worth noting that Starscape beat big budget titles like Sudeki and Driv3r in the same issue!

| | | |
| --- | --- | --- |
| | Moonpod Signs Hamish McLeod! | |
Friday, 22nd 2005f April 2005, at 9:03 pm GMT


We are extremely pleased to announce that we have signed Hamish Mcleod, veteran freeware game developer formerly of the group Fallen Angel Industries, as a third party developer for Moonpod.
We were blown away by Hamish' current project , and after long discussion it seemed an obvious opportunity for both parties to work together and make a fantastic product. Hamish will be developing his project, with support from the Moonpod team, into a new title which will be published exclusively through moonpod.com.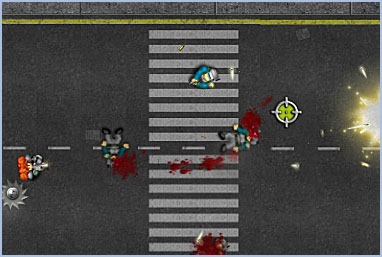 Look out for a full announcement and product details soon!

| | | |
| --- | --- | --- |
| | Customer Panel now 'My Profile & games' | |
Sunday, 23rd 2005f January 2005, at 2:59 pm GMT




Note to all customers:

The customer panel login has moved to the top right of all web pages and is now called 'My Profile & Games'. This should now make it a little quicker to login and obtain any codes or downloads needed.

Expect more features by the time Mr. Robot is released.

| | | |
| --- | --- | --- |
| | Moonpod.com Now 'Live Bookmark' Enabled | |
Thursday, 20th 2005f January 2005, at 4:49 pm GMT


Relevant Moonpod.com pages are now Firefox 'Live Bookmark' enabled. Users of the firefox web browser can now get easy notification of changes for our news, updates and development diaries.

Just look for the
button in the bottom right on corner of your firefox browser when viewing enabled pages.



News Archive:
« Prev 5 Articles 1 2 3 4 5 6 7 8 9 10 11 12 13 14 15 16 17 18 19 20 21 22 23 24 25 26 27 28 Next 5 Articles »
Moonpod | lets play