| | | |
| --- | --- | --- |
| | New review of MrRobot | |
Saturday, 26th 2012f May 2012, at 3:30 am GMT


There is a nice review of MrRobot on Daily PC Game Review who give it 80%.

a great role-playing adventure romp that features some nice puzzles.

a beautiful game that should not be missed.

I am sure you will appreciate all the loving details that went into it; if only there were more games like this little gem.

| | | |
| --- | --- | --- |
| | Show Me The Sales Sale | |
Monday, 14th 2011f November 2011, at 8:50 am GMT


Today marks the launch of the first Show Me The Sales promotion. This is a big bunch of high quality indie games all being sold at a discount. itís not like a normal games bundle, where there is a central seller taking a cut, and you have all-or-nothing. Itís essentially a collection of indie games sold direct by the developer, which are all on sale at the same time. Plus every one has handy videos: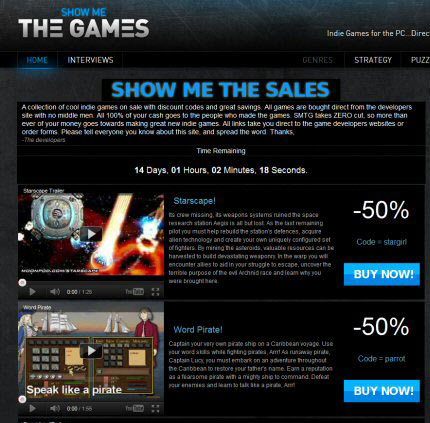 http://www.showmethegames.com/sales.php

Please tell your friends, there are some great games there at great prices, and itís only lasting 14 days.

| | | |
| --- | --- | --- |
| | MrRobot review on Gameboyz | |
Monday, 1st 2011f August 2011, at 12:17 am GMT


MrRobot gets a 'joystick up' recommendation from Game-boyz who had a few nice things to say.

'the writing, is actually quite good, with a few good references, and a little bit of self-referential humour along the way.'

'I'd highly recommend this ... and even players new to the genre might find this a good giggle.'

'it's the hacking that makes things interesting, because it mixes genres ... it takes its influences from a fair few sources. And, despite this, it meshes them together quite well!'



| | | |
| --- | --- | --- |
| | New fan trailer | |
Wednesday, 20th 2011f July 2011, at 1:19 pm GMT


Starscape fan, Dillen, has re-mixed the Starscape trailer to Queen's 'Flash Gordon' track. Nice work!

http://youtu.be/yuT9yBYi4NQ

| | | |
| --- | --- | --- |
| | Showmethegames.com | |
Friday, 19th 2010f November 2010, at 2:31 am GMT


With all these different companies creating game portals, isn't it time the indies got together and in the true spirit of indie-ness collaborated on a portal of their own? Often talked about, but getting indies organised is like herding cats! Well, now we've succeeded.

www.showmethegames.com

Twenty indies got together and created a single website to promote all their games. Each indie still has his own buy links and so still takes 100% of any sale. The site randomises the order of the games shown so its completely fair and unbiased. It's like an indie cooperative :) Whereas one developer with one game might not be able to pay for advertising (it often doesn't work financially for just one game), here we can combine smaller contributions into one large advertising budget.

If you want to explain to people what indie means then just send them to that website! Thanks for to Cliff Harris of 'Gratuitous Space Battles' fame for organising everything and doing the hard work.



News Archive:
1 2 3 4 5 6 7 8 9 10 11 12 13 14 15 16 17 18 19 20 21 22 23 24 25 26 27 28 Next 5 Articles »
Moonpod | lets play