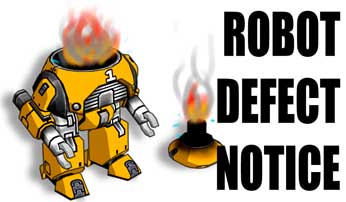 Version 1.05 software for all robots is now available! 1.05 fixes numerous issues, includes an easier to use editor with updated documentation. Update your robot by clicking on the UPDATE button from the Mr. Robot menu.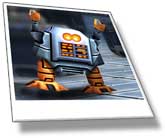 Huey the Nanomek
- have you seen him?.
EVE has reported a nanomek missing. The Nanomek, named Huey, is a systems encryption specialist and well respected in the community. Other Nanos said it was unlike Huey to dissappear on his own and they were now concerned for his safety. He was last seen repairing a Z80 emulator on subdeck G! .
Help find Huey, by downloading the 'Save Huey' custom adventure. Warning- this is a tough one!
Choose Wisely Adventurer...
A few Mr. Robot players have already gotten to grips with the editor and done some amazing work.
4 new users adventures are available on the download system:
pushpush jump by Blizgerg, Fred by punman, Zona Rosa by Kos-Mos and Overtime For Asimov by Weeble.


You can download these, and Moonpod's Save Huey adventure, in game from the new game screen. Click on the Update List button to see what new adventures are available. Make sure you update the game first though, as earlier versions of the game can have problems with user adventures.
Share and Discuss Adventures Online.
If the user adventures have inspired you to have a go at making your own, you may want to check out our new forum for adventure authors. We are always on hand to help and answer any questions. The adventure authors forum also includes a new web based adventure uploading system, so you can automatically upload your adventure and share it through the game. Remember, there's a full editing tutorial in the manual that ships with the game, and with version 1.05 we've also made the editor more robust and easier to use.
Happy Gaming !
-Nick & Mark
The Moonpod team.